As a senior in high school, I am sure you are simply overwhelmed. You are about to enter a new season of life, and that can be extremely scary. Lucky for you, we are here to help! Here are ways to prepare for graduation:
Finish Strong. It would be a shame for you to go through "the best four years of your life," and not have enough credits or the right types of classes to qualify for graduation. The celebration is coming, but you have to finish first. Finish strong in all your classes so that once you are done, there is nothing to worry about. Procrastination might be your best friend right now, but you do not have time for that. You are so close to the finish line, just push through the last stretch.
Senior Pictures. It may not seem like it now, but you will want pictures to document this time in your life. It only happens once, so make sure you get someone to take a picture or two of you. Having a professional take your senior pictures is great, but it could also just be your mom or dad on their iPhone. Here is some advice, on how to pick the best photographer for you. Get on this quick so you will have them in enough time to order grad part invites with your face on them!
Order Your Cap and Gown. You can't walk across the stage without these things! Make sure you get it ordered and picked up on time. Also, don't wad it up in the back seat of your car for a month. Hang it up at home so that when the big day comes, it's not full of wrinkles. Oh, and if you really want to, you can also order "Class of 2020" sweats or a class ring.
Pick Outfit. The next most important piece of attire you will need for graduation day is a formal outfit. I know boys who have worn athletic shorts under their gowns...please do not be that person. An important thing to keep in mind when choosing a graduation outfit is color. My gown was white, so I bought a white dress. My high school's colors were red and green, so I also wore hunter green shoes being the school spirit-type of person I am.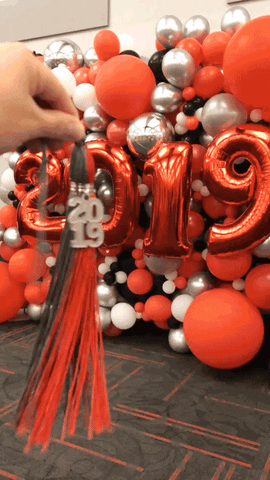 Plan Grad Party. To me, the graduation party is better than the ceremony itself. Pick a date (preferably one that doesn't conflict with your friend's grad parties), print off invites, send them to all your friends and family, buy drinks, snacks, and decor, and you are set. At my party, I had a jar sitting next to a stack of notecards for everyone to write me a short piece of advice or memory. I highly suggest doing it! For more ideas on what cool things to have at your grad party, click here. For a more detail list of what to do to prepare for a grad party, check this post out.
Celebrate!!! Celebrate good times, come on! High school is finally over, so get excited. Have fun and celebrate graduating with your best buds! For fun ideas of what to do the summer after graduation and before college, check out this blog.