Today I started a somewhat accidental piece to the blog here: crowd-sourced topics. Out of a sheer inability to decide on a specific topic to write about today, I simply posted on my Twitter and Facebook that I needed a topic for the blog and I received a lot of responses. However, the one people thought I should talk the most about today is about a fan favorite GC personality: "Wheelchair Greg."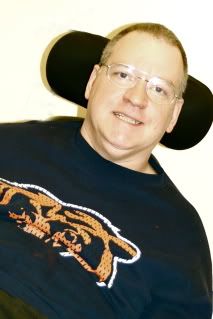 Greg Rowden is a very interesting person that many people on campus are very knowledgeable about. Greg was someone that was never afraid to tell you what he was thinking, and always had a witty comment to come at you with. One of my favorite Greg moments included watching three college students pushing his motorized wheelchair up the inclined sidewalk running between Snyder and the neighboring parking lot. It was very cool that no matter how agreeable (or not agreeable in some cases) you thought Greg was, that there were people who were still willing to help him out when he needed it the most. We appreciate your character and personality Greg, and it is people like you who make Greenville College the way it is today.
Let's hear your favorite Greg Rowden story!
-Matthew